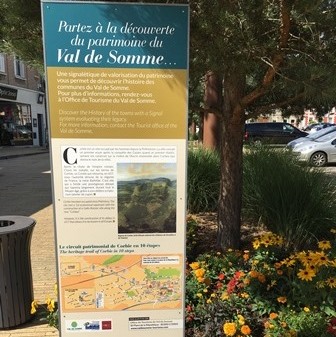 Go and discover the Val de Somme Heritage
With its new touristy development strategy, the Community of communes asks to its tourist office, to set up a signalling system of valuation and interpretation of the heritage on the territory of the Val de Somme. This project over 4 years will allow 32 municipalities to possess a signalling system, under the same graphics standards, and highlighting their heritage.
This project is cofinanced by Europe and Department Council of the Somme.
Those panels are about the history, the nature and also about different events that happened and which marked the consciousness of people. On the panels, there is just a little part of the history, for more information, tourists are invited to come at the Tourist Office of the Val de Somme.
The signalling system of Corbie arrived few weeks ago. This is an historical and an patrimonial circuit called "The prestigious Corbie", which is also available in a guided tour. This signalling system is composed of 11 panels, that introduce the history of the city, of its abbey, and the different monuments of the city :
- First step : the beginning of the circuit and the origins of the city.
- Second step : The city function stage which had Corbie during the great war, the crossing point obliged between the soldiers leaving to the rest in the back and those who came back from the rest and went to the front !
- Third step : Some information about the Monumental door of the Abbey and the market place, near the door.
- Fourth step : It is about the Saint-Etienne church and its tympanum and the reclusion of Saint-Colette.
- Fifth step : It is about the history of the Abbey, with some information about the invention of the "caroline", one of the first normative writings in the world.
- Sixth step : It is about the Spanish seat on the city of Corbie and its conquest by Spanish, with the echo which he had in all France.
- Seventh step : It is dedicated to the educational mission which had the monks of the abbey on the rural population.
- Eighth step : It introduce the old hospice of Corbie, destroyed during the First World War.
- Ninth step : It is situated in front of the Saint-Colette chapel and introduce the history of the Saint.
- Tenth step : It introduce the history of the castle (now the town hall of Corbie)
- Eleventh step : It introduce the history of the neighbourhood and the church, with the incredible tympanum, of La Neuville.