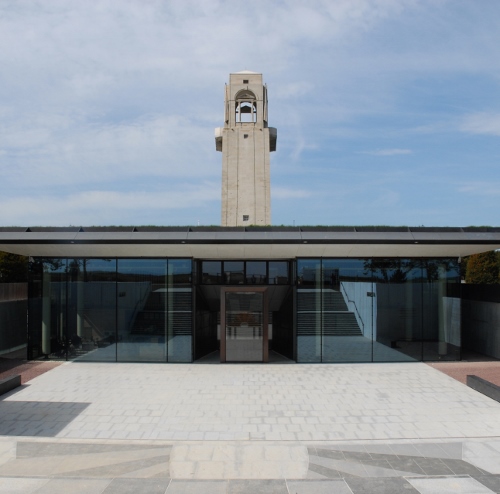 "Telling their story" exhibition at the Sir John Monash Centre
"Telling their Story" - UCL exhibition.
Since 2014, the UCL Institute of Education has been running the hugely successful
'First World War Centenary Battlefield Tours Programme'. This award-winning
educational programme, funded by the UK Government takes students and teachers
from every secondary (11-18 years) school in England on a four-day tour of the
battlefields of the Western Front. Students from many of the nations which fought
at Amiens - Australia, Canada, England, France, Northern Ireland, Scotland and the
USA - worked together during the four- day tour to study the nature of fighting on
the Western Front, before looking closely at the events of August 1918 and how they
would lead to the armistice. The tour was made up of a number of key elements
including a pre-tour research project for the students, based on 'telling their story'
of this period of the war. The research was then used to create an exhibition.
The Sir John Monash Centre is proud to present this exhibition from 8 August - 7 September 2018.
Open daily from 9:30am to 6pm.
Free admission
Sir John Monash Centre, Route de Villers-Bretonneux, 80800 Fouilloy