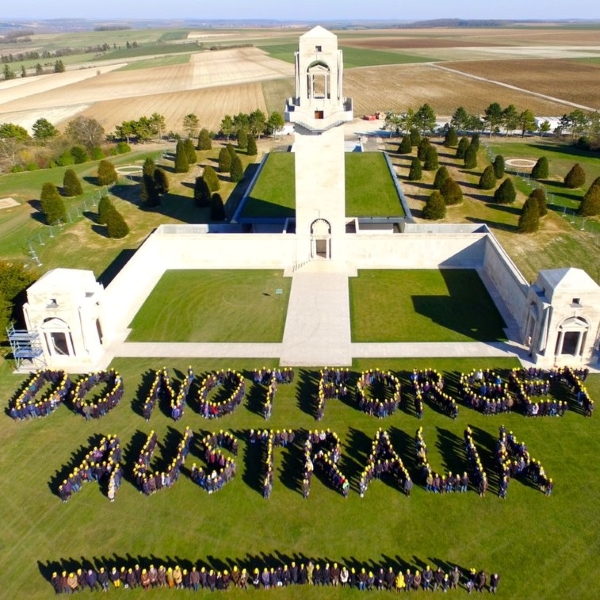 Val de Somme supports Australia
100 years ago, the Val de Somme witnessed the bloody battles of the First World War. The region is still commemorating the sacrifice of these young australian soldiers who fell far away from their home defending France. Today, the inhabitants of the Val de Somme show their support for the australian people.
A support walk and a kitty organized by the inhabitants of Villers-Bretonneux
Villers-Bretonneux have not forgotten the sacrifice of these young Australians, who, 100 years ago, liberated the town and prevented the invader from taking Amiens. They didn't forget the solidarity shown by the inhabitants of Melbourne and the State of Victoria by funding the reconstruction of Villers-Bretonneux and in particular its school. Today, almost a century later, Villers-Bretonneux, considered as "the most Australian town in France", wishes to support Australia, which has been in the grip of flames for several months. As a reminder, these fires caused the death of many australians and more than a billion animals.
A support march will take place on Sunday February 2, at the beginning of the afternoon at 2 p.m., from the town hall to the Australian National Memorial. A kitty has already been launched to help an Australian town of the same size as Villers-Bretonneux, which was affected by the fires. You can participate in the prize pool by clicking here. The Australian Ambassador to France, Brendan Berne, will be present at this support march.
If you wish, you can also send your support message to the following address: support-australie@courrier-picard.fr. Your message will thus be transmitted to the Australian Embassy in France, to then be disseminated to local populations.