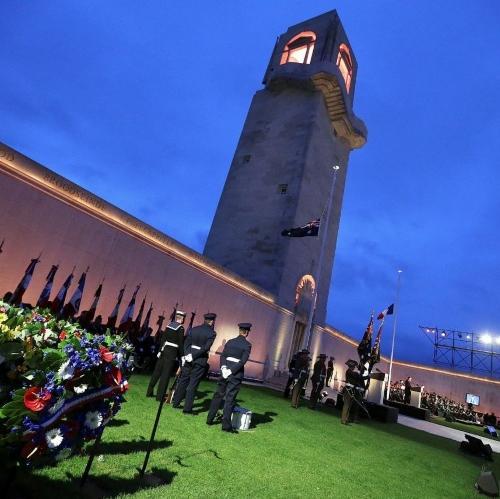 VIRTUALLY CELEBRATING ANZAC DAY
The world is currently experiencing an unprecedented health crisis that is upsetting the economic and social life of each of us. In order to comply with government confinement instructions to combat the spread of the Covid-19 virus, the Anzac Day ceremony, which is held every April 25, at dawn, at the Australian Memorial in Villers-Bretonneux, has been canceled .
As soon as the Australians announced the cancellation of the commemorations of ANZAC Day 2020, a small number of veterans and civilians looked for ways to commemorate by respecting the confinement measures relating to COVID-19. Two Veterans, Bill Sowry and Terry James, suggested standing in the aisles of our homes to observe a minute of silence. At the same time, Justin Wilbur offered to light a candle in tribute to the soldiers. He created a Facebook group "Aussies and Kiwis for ANZACS" which today brings together 180,000 followers (including France).
The movement took on a national scale in Australia, relayed by the media. Australia wishes to associate France, and in particular the inhabitants of the Somme, with this very special ceremony of Anzac Day 2020.
Saturday April 25, at 5:55 am, the national ceremony will be broadcast via a mobile application under development. Those wishing to participate in this commemoration will be invited to go to their balconies, aisles or any other appropriate place to observe the minute of silence. Downloading the application is optional. The main thing is to bring together as many French people as possible to join the Australians and New Zealanders for this unique event in honor of those who have fallen and the birth of the ANZAC tradition. The mobile app will respect time zones, using staggered broadcasting for those who are not located on the Australian East Coast. In addition to the retransmission, the application will provide a flickering candle (representation of "The Eternal Flame"), it will take photos and post them on social networks if necessary.
For more than 100 years, the destinies of Australia and the Department of the Somme have been closely linked. We invite Samarians to participate in this virtual ceremony, in tribute to the soldiers who fell in the Somme during the Great War and in honor of the friendship that unites our two countries.
More informations :
On Facebook : https://www.facebook.com/groups/anzacday2020/
On Twitter : https://twitter.com/AAnzacs
On Instagram : https://www.instagram.com/aussiesandkiwisforanzacs/
Credit : ©AliceDonckele
coronavirus Covid-19 Anzac day 2020 Heritage Anzac Day Australia