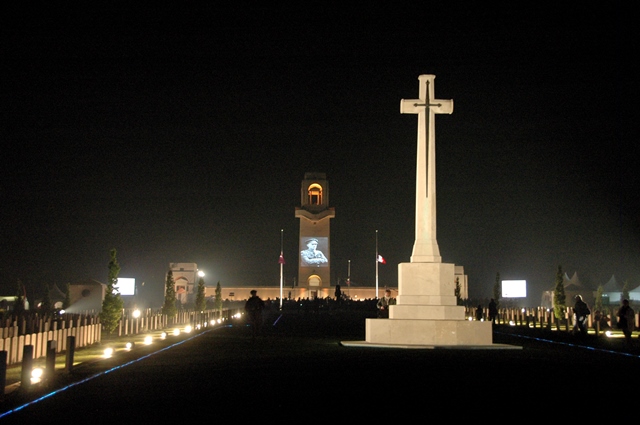 THE ANZAC DAY IN VILLERS-BRETONNEUX ON APRIL 25TH, 2017.
Every 25 April, Anzac day commemorates the bloody Battle of Gallipoli between the Australian and New Zealand forces and the Ottoman army in 1915. Every year the event brings together several thousand Australians and New Zealanders on French territory. 1918 was the most significant year for the communes of Villers-Bretonneux and Le Hamel which saw the Australian expeditionary corps halt the German advance on 25 April, thus avoiding the capture of Amiens.
Every year in Villers-Bretonneux, "Dawn Service", a memorial ceremony, takes place at dawn on 25 April at the National Australian Memorial.
Timetables :
1:30 a.m. : Opening of the site
2:00 a.m. : Beginning of the pre-programme
4:45 a.m. : All visitors must be seated
5:30 a.m. : Beginning of the ceremony
8:45 a.m. : Ceremony in the War Memorial (in the city centre of Villers-Bretonneux)
Caution !
All visitors to the Anzac Day commemorations at Villers-Bretonneux will require a pass to gain entry to the Australian National Memorial and are required to carry identification with them.
To optain a pass for the commemoratives ceremonies of the Anzac Day, click here.
Practical information :
The Australian Memorial is exposed at the meteorological elements and it can be very cold before dawn. Plan clothes warmly and waterproof.
Transport :
The road between Villers-Bretonneux, Corbie and Fouilloy will be closed between 2:00 p.m. on 24 April and 2:00 p.m. on 25 April 2017.
Private vehicles :
There is the possibility to park your car in the parking of the supermarket "Géant" in Glisy, from where it will be possible to take a bus until the Australian National Memorial.
But there is also other limited car parks :
- the car park of the city center in Corbie
- the car park of the city center in Villers-Bretonneux
- the car park of the supermarket "Casino" in Fouilloy
- the car park of the train station in Villers-Bretonneux
- the car park of the STDN compagny in Villers-Bretonneux
Coaches :
A Park and Ride facility will operate for all coaches from the Géant supermarket carpark, Glisy. This facility will be open from 1.00 am on 25 April 2017 for visitors to progress through security screening and board an event shuttle to the commemoration. Visitors will be returned immediately to the Park and Ride facility following the service. Individuals with accessibility requirements are also encouraged to utilise this facility.
A complimentary shuttle bus will run from the Amiens train station at 2.00am on 25 April 2017 to the Park and Ride facility.
On the site:
- Toilets with an acces for disabled people
- Emergency service
- Drinks in limited quantity
- Bins
-Seats for reduced mobility people are available. You must have to whrite an email to overseascommmorations@dva.gov.au as fast as possible (limited quantity).
80800 Villers-Bretonneux